Posted on: December 6th, 2014 |

Comments Off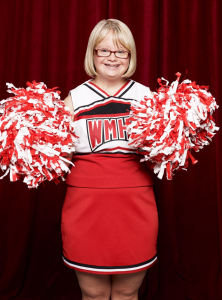 The number of television characters with disabilities is on the rise, according to a report on diversity in television program is released by GLAAD, a gay advocacy group.  The report stated that 11 of the 813 regular network prime-time characters (1.4 percent) have disabilities.  This is an increase from 8 characters last fall season.  Persons living with disabilities make up 12 percent of the non-institutionalized US citizens.    
Max on Parenthood (NBC) has Asperger Syndrome.  FOX's Red Band Society is set in a pediatric ward of a hospital and includes a character in a coma, one with cystic fibrosis, one with heart issues and two living with reduced mobility. Glee's Artie is in a wheelchair.  Although Becky on Glee is played by Lauren Potter, an actress with Down syndrome, very few of the performers actually have disabilities.   
Posted on: December 10th, 2013 |

Comments Off
Millions of disabled workers in the United States rely on disability payments (Social Security Disability, SSI or both).  About 6 percent of the nation's working-age population receives disability payments.  Some states have more than 10 percent on disability.  In New Jersey, that figure is just 3.8 percent.   What is the explanation for this disparity?
Lack of education.  Low rates of high school completion are linked with high rates of disability receipt.  This explains why so many people in the Appalachia region and the deep South are on disability.  Those with more education are better able to adapt to a wider range of work.
Age.  Nearly 70 percent of beneficiaries are age 50 or older; nearly one in three are over 60.  The median age in New England and Appalachia is higher than the national average.  Therefore, they have high rates of disability.
Native-born population.  Contrary to popular belief, immigrants are far less likely to get disability checks than native-born individuals.  New Jersey, along with New York, Florida and Texas have large foreign-born populations and lower percentages of disability recipients.
Industry versus service-oriented.  In states whose economies rely on manufacturing, mining and forestry, there are larger percentages of disabled persons than places like New Jersey which have a service-oriented economy.  Therefore, we see more persons on disability in the industrial Midwest as well as the South and Appalachia.
|