Posted on: December 6th, 2014 |

Comments Off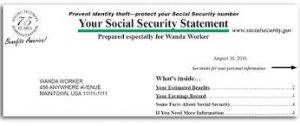 The Social Security Administration has resumed the periodic mailing of earnings statements.  The agency stopped the annual mailings in 2011 as a cost-saving measure.   
The earning statement is an important planning tool.  In addition to estimated retirement benefits, your personalized statement includes estimates of survivor's benefits and how much you could collect if you became disabled. 
 A worker can access this information on-line at any time by setting up a personal account at www.ssa.gov/mystatement.  Only 6 percent of American workers have opted to do so.  Consequently, Congress urged the SSA to do a better job in disseminating this critical information. 
 In September,  SSA began mailing paper statements to workers attaining ages 25, 30, 35, 40, 45, 50, 55, and 60 and over who are not receiving Social Security benefits and who are not registered for an online account.  
|