Posted on: December 6th, 2014 |

Comments Off
Until recently, persons in same-sex marriages were not eligible to receive Social Security benefits on their partner's earning record even in those states that recognized same-sex marriage.  The Supreme Court case of United States v. Windsor  decided in June of 2013 changed that.  Several months later, New Jersey legalized same-sex marriage.
 Now persons in same-sex marriages are eligible to collect benefits based on their partner's earning record including survivor's benefits, disabled widow/widower benefits, and retirement benefits in some cases.  A surviving spouse is entitled to the one-time $255 death benefit.
 Social Security is now processing some retirement and surviving spouse claims for same-sex couples and paying benefits where they are due.  There are many questions that remain unanswered.  For example, what happens when a spouse begins to receive benefits and subsequently moves to a state that does not have same-sex marriage.  In the coming months additional policy will be developed and implemented.
 Perhaps the new policy will assist elderly lesbians in particular.  According to a report by the Williams Institute of UCLA School of Law, 9.1 percent of lesbian couples 65 years of age and older live below the poverty line compared to 4.6 percent of heterosexual couples. 
 In some situations, the Windsor case may work to the detriment of those in same-sex unions.  Supplemental Security Income (SSI) is a need-based program.  The income of the applicant's spouse is taken into account which may reduce or eliminate SSI benefits.
Posted on: December 6th, 2014 |

Comments Off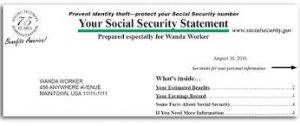 The Social Security Administration has resumed the periodic mailing of earnings statements.  The agency stopped the annual mailings in 2011 as a cost-saving measure.   
The earning statement is an important planning tool.  In addition to estimated retirement benefits, your personalized statement includes estimates of survivor's benefits and how much you could collect if you became disabled. 
 A worker can access this information on-line at any time by setting up a personal account at www.ssa.gov/mystatement.  Only 6 percent of American workers have opted to do so.  Consequently, Congress urged the SSA to do a better job in disseminating this critical information. 
 In September,  SSA began mailing paper statements to workers attaining ages 25, 30, 35, 40, 45, 50, 55, and 60 and over who are not receiving Social Security benefits and who are not registered for an online account.  
|