Posted on: December 6th, 2014 |

Comments Off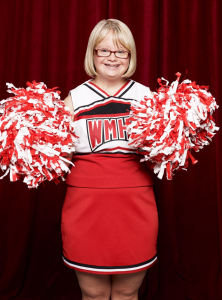 The number of television characters with disabilities is on the rise, according to a report on diversity in television program is released by GLAAD, a gay advocacy group.  The report stated that 11 of the 813 regular network prime-time characters (1.4 percent) have disabilities.  This is an increase from 8 characters last fall season.  Persons living with disabilities make up 12 percent of the non-institutionalized US citizens.    
Max on Parenthood (NBC) has Asperger Syndrome.  FOX's Red Band Society is set in a pediatric ward of a hospital and includes a character in a coma, one with cystic fibrosis, one with heart issues and two living with reduced mobility. Glee's Artie is in a wheelchair.  Although Becky on Glee is played by Lauren Potter, an actress with Down syndrome, very few of the performers actually have disabilities.   
|